History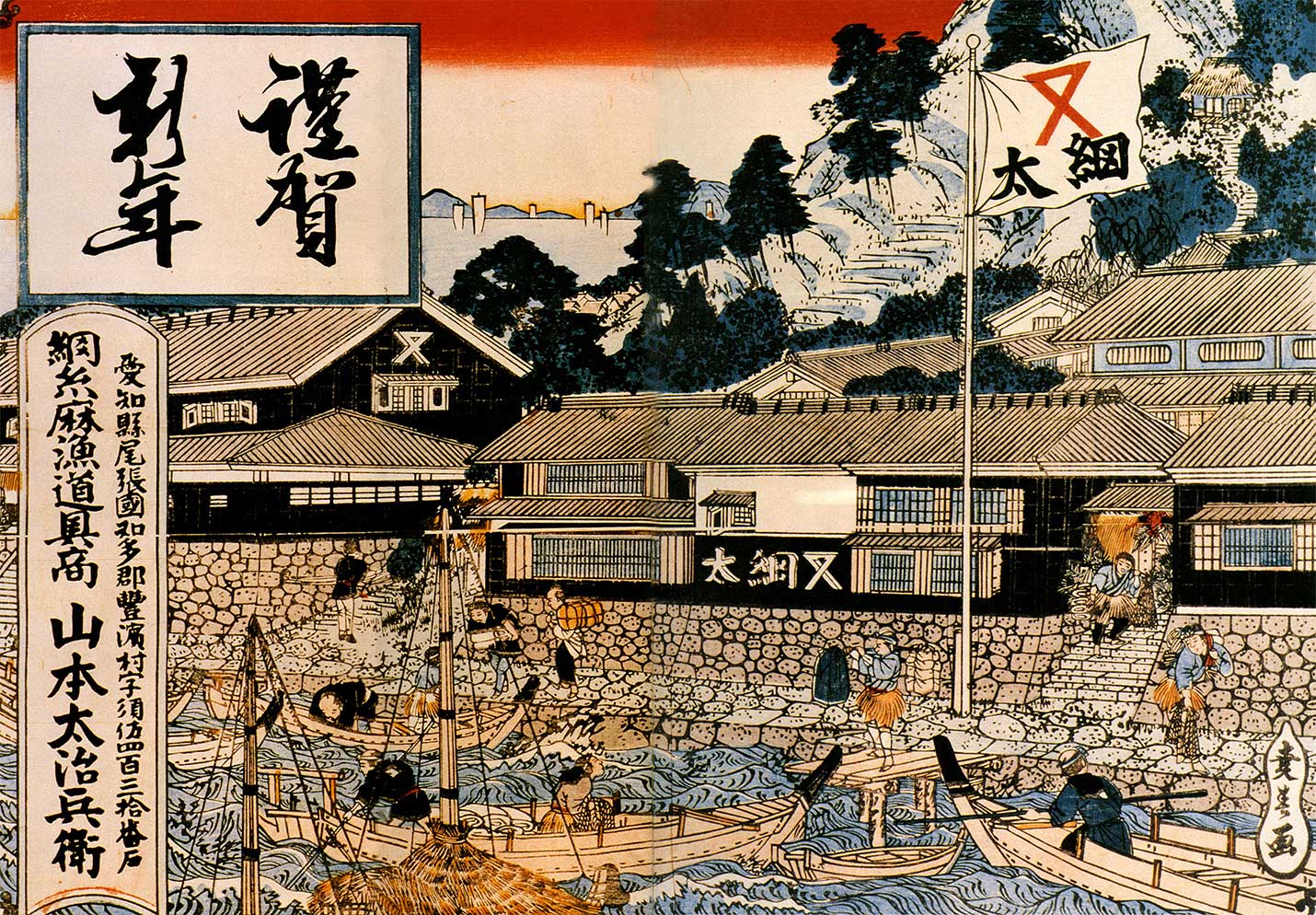 The word "AMITA" is derived from the combination of two Chinese characters
pronounced "ami" and "ta" respectively. The combination of these two words means "Strong Net"
Today AMITA machines are trusted the world over by net makers in more than 50 countries on five continents. This success is built upon over half a century of dedication to the continual improvement of fishing net machines through research and experimentation. AMITA's commitment to excellence dates back to 1817, when Tajibei Yamamoto, great-great grandfather of the current owner (Yoshiji Yamamoto), began hand-making and selling hemp fishing nets.
More recently 1951, marks the year that our company entered the international market-place with the sale of fish making machines to six countries including Finland and Brazil. Over the ensuing years, AMITA developed a reputation as the world's leading manufacturer of fishing net machines and related machinery.
The machines built in our factory couple the workmanship and durability that AMITA is famous for with new materials, technology, engineering, and customer insights. Machines that are increasingly user-friendly, efficient, and productive are the result of this unique combination.
Since its beginning, AMITA has stayed on the forefront of net-making technology. Today, Computer Aided Design (CAD) and proprietary software allow us to design machines that meet the specifications of individual customers. Additionally, in-depth know-how in the areas of electronics and mechanical engineering (as they relate to the net-making process) allow for flexible approaches with regard to innovative new designs.
We are not merely a net machine manufacturer, however. As a company with a tradition that reaches back over 200 years, AMITA possesses the knowledge and experience to design and operate plants adapted to local conditions...anywhere. To enable customers to get maximum performance from their AMITA net machines various technical and management consulting services are offered. Obviously maintenance of the installed machines is a part of this commitment, but follow-up services at other levels, to ensure full customer satisfaction, are also conducted.
Our company is organized to follow-up developments and customer requirements in a wide range of areas...beyond merely technical matters. Of course, parts for previous models, as well as, all current models are always available. Additionally AMITA sends training staff to locations all over the world, and accepts trainees at its headquarters to enable customers to operate and maintain their machines properly. We believe that it has the responsibility to establish and maintain a system for following-up every aspect of its business: from manufacturing machines and designing entire plants to maintenance and training.
To ensure that AMITA maintains its leadership in the fish netting industry it continues to strengthen the training structure of its employees. While specialization is promoted, it is balanced against a desire to build character within the work-force. For example, employees are encouraged to enhance their English skills, develop their knowledge of computers, and improve their overall understanding of the world throughout the course of the day. This InterNet site is one such result of our particular business approach, as well as its long history of embracing new technology to better communicate with customers around the world.
As a result of all these endeavors, AMITA's has become a responsible world citizen, whose network is as vast as the seven seas.
MILESTONES
1817

In what is now the town of Toyohama (Aichi Prefecture) Tajibei Yamamoto, great-great-grandfather of the current owner, began hand-making and selling hemp fishing nets.
1900

A branch of this business was opened in Toyahashi. This year marks the foundation of Amita Company.
1906

Yasutaro Yamamoto, grandfather of the current owner, obtaining rights to the Amita name, became the owner of 'Amita Shoten' which he established and managed independently from the original firm run by his brother.
1934

The company system was adopted. The company was renamed 'Yasutaro Shoten and Company' and was capitalized at 250,000 Yen.
1937

A net factory was established with 68 sets of Amita net machines. Nets were exported for the first time.
1943

Tadashi Yamamoto, father of the current owner, became a Representative Partner of the company.
'Amita Machinery Limited' was established as a repair shop for net machines.
1945

All company facilities suffered war damage and were destroyed by fire.
1946

The company was renamed 'Amita Net Manufacturing Company'.
1949

Most of the facilities were reconstructed as before the war.
Capital was increased to 2,500,000 Yen.
The Amita 'Flat-knot' net machine was developed. This marks the most important turning point in the history of the company. From this point Amita has concentrated its energies on the further development and continual improvement of net machines.
1951

Over the next 24 months 13 sets of Amita net machines were exported to the United States, Brazil, Taiwan, East Pakistan (now Bangladesh) and Thailand.
1954

Amita began manufacturing nylon fishing nets.
1957

At the International Fishing Gear Conference sponsored by the Food and Agriculture Organization of the United Nations, held in Hamburg, Germany, the Amita Model DKA net machine, won recognition for its efficiency and had a strong influence in shaping the European fishing industry.
1960

Amita was reorganized as a joint-stock company.
Amita contributed funds toward the construction of the 'Sakura Maru', a vessel which carried the 'Japanese Industry Floating Fair' to countries all over the world. From this year, Amita participated in the 'Floating Fair' on every occasion.
1963

At the World Fishing Gear Conference, held in London, England, Amita demonstrated a net machine for manufacturing nylon monofilament nets. With this development, Amita established itself as a pioneer in the production of double-knot monofilament netting.
1965

Capital was increased to 11,000,000 Yen .
1967

The Amita Model MTA high-speed net machine was developed. Following Amita's lead, net machine manufacturers all over the world began concentrating on speed and efficiency in net production.
1971

Capital was increased to 22,000,000 Yen .
1973

The Amita Model ETA high-capacity net machine for the manufacture of heavy trawl netting was developed.
1974

Capital was increased to 44,000,000 Yen .
1975

The Amita Model ANT a truly modern, efficient and economical net machine was developed.
1976

The RAMIK rope machines were developed in cooperation with a Swiss rope machine manufacturer.
1978

The Amita Model SET a small yet highly efficient net machine was developed in response to the requirements of developing nations around the world.
1979

The construction of Amita's new 3,100 m2, fully air-conditioned factory and office building was completed, permitting an increase in productivity and efficiency.
1980

At the World Fishing Gear Conference, held in Copenhagen, Denmark, the heavy-duty Amita Model GTA net machine and RAMIK rope machine won recognition for excellence.
1981

The Amita Model NSA, a labor-efficient, high- capacity and single-knot double-knot convertible net machine was developed.
1982

Sales of Amita net machines to the Japanese market began.
1984

Yoshiji Yamamoto became president of Amita Machinery Limited.
1985

The Amita Model YSA, a high-speed and highly efficient net machine employing mechatronics, the Model AW automatic bobbin winding machine and the Model AB programmable automatic selvage bobbin changer were developed. Together these three revolutionary machines were designed to function as a comprehensive net-making system, capable of unmanned operation under computer control.
1986

Yoshiji Yamamoto became president of Amita Company Limited.
The Amita Model NBA net machine was developed.
1987

Amita exhibited its machines for the first time in the People's Republic of China in Shantou, China.
1988

Amita exhibited its machines at the China Fisheries '88 exhibition in Shanghai, China.
Amita introduced a range of machines specifically for the production of single-knot netting.
1989

Four sets of IBM PS55 (CAD System) became operational.
1990

Amita Models NTA and NTS net machines were developed and enthusiastically received by customers.
At the U.S.S.R. Exhibition in Leningrad the Amita Model NBA net machine was showcased.
Amita Machinery Limited adopted its present name of 'Amita Machines'.
Amita and SIMA, an Italian company, formed an agreement to cooperate in the promotion and sales of each other's machines.
The offices of Amita Company Limited were refurbished.
1991

Three sets of EWS (Sun-Spark) were installed for use with the CAD system.
An IBM AS 400 was installed, replacing the System 38. A network environment was created between an IBM AS 400 and four IBM PS55. The development of a 'Total Production Control System' began.
The assembly area was relocated, expanded and up-dated.
1992

The fourth generation of Amita Models NSA and NSS net machines were developed and highly successful.
Amita Models: NSA net machine, AWD automatic bobbin winder and LSN-12C length stretching machine were showcased at the Fishery China '92 exhibition in Shenzhen, China.
Amita Models: NSA net machine and AWD automatic bobbin winder were showcased at the Fish Asia '92 exhibition in Singapore.
Amita won the Scientific Technique Prize for its Models YSA, AWD and AB machines capable of unmanned operation under computer control.
Amita expanded it's PC-LAN system creating a total network between UNIX workstations and the AS 400 using NetWare.
1993

Amita opened the 'Shanghai Service Center' to provide technical service and better delivery of spare parts for the growing market in China.
The Amita Models YSA net machine and AWD automatic bobbin winder were showcased at the SHILAT '93 exhibition in Teheran, Iran.
1994

Amita ventured into the Information System Services business.
Amita Models: NSA net machine, and AWD automatic bobbin winder were exhibited at the Japan Industrial Exhibition '94 in Hanoi, Vietnam.
The Amita Model NSB high-speed net machine was developed.
1995

Amita Systems, a computer solutions company, began business. After connecting to the Internet with a dedicated line Amita's web site was designed.
The Amita Model NSC high-speed net machine with optional servo motor system was developed.
The new Amita Model GTA (types 25-20 and 50-10) net machine was developed. Many orders for these net machines from European customers were secured.
The Amita Model NSX, the world's first double-knot 6mm pitch net machine was developed.
1996

Amita Internet began providing local companies and residents with Internet access using a dedicated 128k line (later upgraded to 256k).
Amita Systems began offering a new service for the construction and integration of internal LAN systems with the Internet.
At a private exhibition in Shanghai, China, the Amita Model NSX net machine was showcased.
The fifth generation of Amita Model NSS (single knot) high-speed net machine was developed.
The second generation of Amita's Production Monitoring System for net manufacturing factories was developed.
The Amita Models NTA and NTS were updated, and a new type with 8mm pitch and 610 shuttles was developed.
1997

Amita Internet upgraded to a 512k dedicated line to better serve a growing number of internet subscribers.
A database synchronizing system, using a standard SQL server and Amita's local intranet was demonstrated at the Amita Systems '97 Fair.
Intranet and exchange servers were installed, creating a total information system.
Amita Systems developed a customer user database management system based on an Oracle server.
The backbone of Amita's internal LAN was upgraded to 100MB.
Amita open the "Amita Technical Company Private Limited" in Chennai India, to provide technical service and better delivery of spare parts for the growing market of India and neighboring countries.
The second generation of Amita Model NSB net machines were developed, including a new version with 612 shuttles.
A larger version of the Amita Model AWE semi- automatic bobbin winder was developed for use with Amita Model GTA and other large pitch net machines.
1998

At a private exhibition in Monshiganj, Bangladesh, the Amita Model NSB type 7-60 net machine was showcased.
The Amita Model GTA type 10-30D was developed for the production of Dyneema double knotted netting.
The AMSYS ver 4.1 (production control and machine monitoring software) was released.
Production began at Amita Juliana, a joint venture company located in India.
The Amita Model YSA type 11-50 (with weft bobbins of 250mm) was developed for the production of small mesh sized netting of thicker twines.
AMNET (a internet / intranet solution) and AMSYS ver 4.1 were unveiled by Amita Systems at the "High Tech Fair '98"
2000

At the beginning of the Year 2000, Amita Company combined its sales and manufacturing units into one uniform operation, changing its name to Amita Machines.
2001

Amita open the amita Technical Service, to provide technical service and better delivery of spare parts for the growing market of India, other asian country, middle east, and more.
Yoshiji Yamamoto became a chairman, and Kaname Yamamoto became a president of Amita Machines.
The new Amita Model MSA net machine and new Amita Model YSA net machine was developed.
The factory and office location has changed. All business will be conducted from the new facility (1-3 Hara-machi, Toyohashi, Aichi, Japan, 441-3111)
2002

Amita Models:YSA22-20 net machine which included double pitch system and special knot was showcased at the Portugal exhibition in Portugal.
Now,these systems are available for all machines(MSA,YSA,GTA)
2003

YSA 12-48 and YSA 18-30 machines were demonstrated in Amita factory site. Improved version of YSA has developed and shipped to abroad.
2004

Newly developed MSB and MSC machines have brought out.
In October MSB 7-50, MSC 9-40UK and AWD have demonstrated at AMITA factory site.
2005

Easy handing and Operating MSV model has developed.
This model operates with several selvage and can be changed twine and depth of net easily.
2006

India over sea corporation: A.T.C. expand factory scale and shifted to Chrompet area near to Chennai International airport.
Local Assembly manufacturing system for Model MSB/MSA started on a full scale operation.
2007

Amita Engineering was established by receiving the business rights for net machine from Amita Company.
2009

The Amita Model MSE, high-speed, Single-Knot making machine was developed, mainly exported to Indian market. Renewal demand for Single Knot making machine made in India has arisen. Model MSE became hot-selling product.
2010

High performance, widest net machine Model MSW 9-60 was developed. At the same time, we developed special small mesh making device. It made a possible to cope with widest nets with very small mesh.
2012

High performance Bobbin Winder BH-4 was developed. Stable line speed was materialized by two axis inverter control and it contributes to net quality improvement.
2013

Solar Power Generation Panel was installed on the factory. Solar power business was started.
2014

MSW 18-30, MSW 22-25 alternative to current Model YSA were developed.
Two axis servo-system is standard equipment in these Models and this system materialized most appropriate motion control.
2015

The third generation of New Model GTA was developed. By employing two axis servo-motor system and modified Lower Hook Rail, productivity and stability
were much progressed.
NOTABLE AND DISTINCTIVE FEATURES
Teamwork
The advanced machinery and equipment researched, developed and manufactured by Amita Machines is marketed worldwide by Amita Company. Though not a large enterprise, Amita is self-sufficient, independent and deeply involved in a wide range of activities.
Amita: Japan's pioneer in the development of overseas markets for net machines. Amita machines are recognized in over 55 countries of the world for their excellence and efficiency, as well as for their unique features.
COMMENDATION FOR CONTRIBUTION TO EXPORT
From 1965, every year for six years, Amita Company received a commendation from the Japanese government in recognition of Amita's contribution to export.
PARTICIPATION IN INTERNATIONAL TRADE FAIRS
Amita Company has exhibited and demonstrated its machines and equipment at more than 30 national and international exhibitions, as well as private Amita exhibitions and on the Japanese Industry Floating Fair.
TECHNICAL DEVELOPMENT
Relative to Amita net machines, the company holds some 60 national patents, 30 utility model patents and 20 overseas patents (U.S.A., England, Germany, Norway).
INTERNATIONAL SALES
Amita Company exports its net machines and rope machines to over 55 countries all over the world. Amita fishing nets and fishing gear are sold to more than 45 countries.
OVERSEAS EXPERIENCE
Members of the Amita staff have completed more than 500 overseas assignments.